January 25-29, 2016 marked the National Bible Week (NBW) in the Philippines. This year's celebration centered on the theme, "God's Word: Hope for the Family, Strength for the Nation," anchored on Psalm 33:12 and Acts 16:31.
The annual celebration of the National Bible Week started on the first week of Advent in 1972 as a way of participating in the International Book Year by the United Nations. The celebration every last week of January became official when the late President Corazon C. Aquino issued Presidential Proclamation (PP) No. 44. This was later followed up by former President Fidel V. Ramos in PP 1067, which recognized that "national attention be focused on the importance of reading and studying the Bible in molding the spiritual, moral, and social fiber of our citizenry." These two Presidential Proclamations were actually an affirmation of an earlier proclamation (PP 1923) by the late President Ferdinand E. Marcos on October 27, 1979, in recognition of the Bible as "an excellent source of principles for the development of moral and personal discipline" for Filipinos (Source: Episcopal Commission on the Biblical Apostolate).
ICLA celebrated National Bible Week 2016 through various activities. A Eucharistic celebration, presided by Fr. Sammy Canilang, CMF—Director of ICLA—opened the week-long celebration. Each day of the National Bible Week, the Biblical Ministry students prepared posters with biblical quotes and posted them on bulletin boards in strategic places.

A poster-making contest with the theme "The Bible and Laudato Si" was also launched with two entries from each major field of concentration, namely, Biblical Ministry, Consecrated Life, Missiology, and Spirituality. Several faculty members and staff of the Institute served as judges in this contest. Prizes included cash, books, and other useful items.
In the morning of January 29, 2016 the culminating activities included the following: 1) Doxology and Bible Enthronement by the First Year MA Students, 2) Welcome Remarks by Dr. Tessa Rosana, Biblical Ministry Coordinator, 3) Talk by Fr. Jonathan Bitoy, CMF on the NBW 2016 theme, "Word of God:Hope for the Family, Strength for the Nation," 4) Dance by Sr. Sandra Toscanoand Sr. JuspinaRakhi Gomes from Bangladesh, and 4) Open Forum.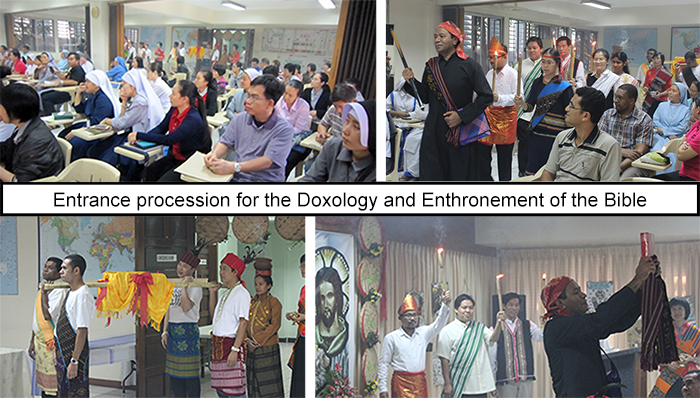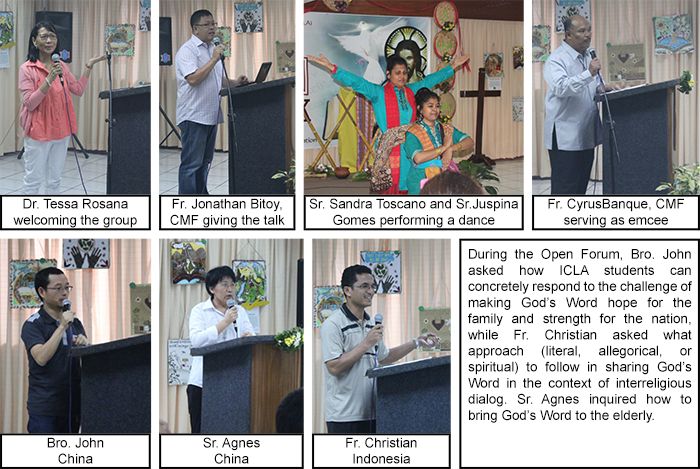 The afternoon of the same day was dubbed as Bible Learning and Fun with games like Bible Jigsaw Puzzle, Fill in the Blanks, Parable of the Talents, and Biblical Couples. Prizes were immediately given to the winners.
National Bible Week 2016 in ICLA opened and closed with the celebration of the Holy Eucharist—"the source and summit of the Christian life" (Lumen gentium, no. 11; cf. Catechism of the Catholic Church, no. 1324).