It was an afternoon and evening of fun, of presence, and of presents. That is how the ICLA Community Christmas Party 2015 can be summed up. This was held at the Moraleda Hall on the 15th of December. It started with parlor games in the afternoon organized by the student representatives with the dynamic leadership of Sr. Elvie Camilion of the Academic Department.
The evening program started with catered dinner, which everyone appreciated. This was followed by presentations starting with a Doxology in dance prepared by the First Year students.

Dr. Tessa Rosana, ICLA's Registrar and Secretary, gave the Welcome Remarks while Sr. Marilou Montalban from the Philippines and Bro. John Yang Zhenxiong from China served as emcees for the program.
The presentations, consisting of dances, songs, and dramatizations, were interspersed with the giving of door prizes to lucky persons, whose names were drawn out by some ICLA professors.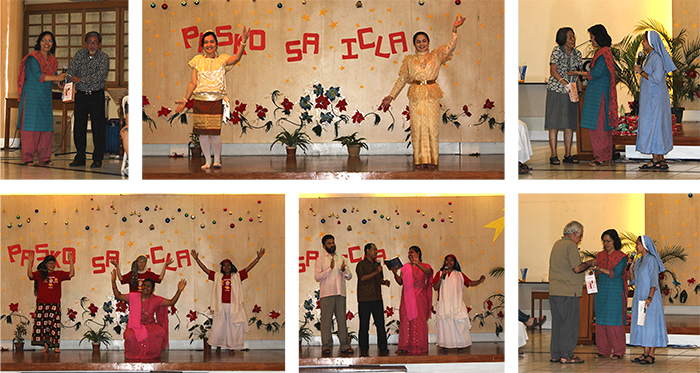 After the various presentations, Fr. Lonely Paul Mashonga announced the winners of the sports tournament and Ms. Eisen Villanueva handed the prizes to the winning groups and individuals. Congratulations to all the winners, especially to the Yellow Team—the over-all champion. Sr. Elvie Camilion also announced the winners of the parlor games.
One of the highlights of the program is the exchanging of gifts. Sr. Elvie read a story and each time the word "right" was mentioned, each person had to pass the gift she or he brought to the person on the right; likewise, when the word "left" was read, each person had to pass the gift to the left. When the story came to an end, the gift in one's hand became one's Christmas gift.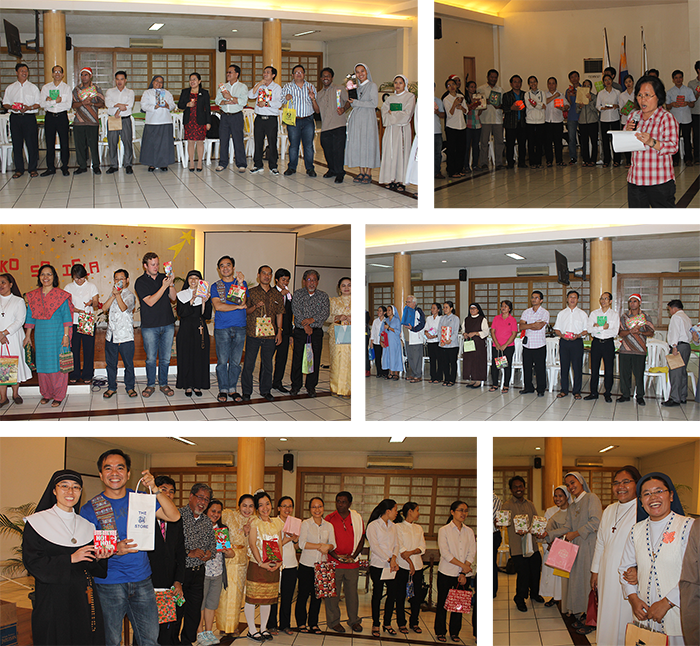 After the exchanging of gifts, Fr. Christian Cangkung, CMF gave the closing message and the blessing. The fun and camaraderie continued with community dancing.
Pasko sa ICLA 2015 was indeed a joyful event, where brothers and sisters from different countries were united in celebrating once again the keeping of God's promise and the coming of the Messiah.
"For a child has been born for us, a son given to us; authority rests upon his shoulders;
and he is named Wonderful Counselor, Mighty God, Everlasting Father, Prince of Peace."
Isaiah 9:6